Form Builder Software
The easy way to manage HR forms
Take the pain out of additional paperwork with Cezanne HR's integrated form builder that makes it easy to create employee-friendly forms and approval processes that reflect your exact needs.
Provided for free as part of Cezanne HR's People Management software module, the form builder lets you easily set up, manage and report on any kind of form, from working from home requests to recording and approving corporate gifts. Your options are endless.
Book a demo
What features does form builder have?
Create forms the easy way fast
Intuitive drag-and-drop
Cezanne HR's drag and drop interface makes setting up forms simple. It's easy to create fields, include instructions, set field types (rich text, checkboxes, radio buttons etc.) and much more.
Fields can be made mandatory and, as the system automatically validates data types for you, you can be sure information is completed correctly first time, every time.
Streamline sign off
Flexible approval processes
Form builder automatically routes forms through your approval processes, triggering notifications at each stage so you don't have to worry about important sign-off stages getting missed.
With the option to include up to ten approval stages, you can be confident the form builder will cope with even the trickiest of processes.
Ensure your online forms are secure
Configurable security settings
Form builder has security built-in, so you can be sure sensitive HR information is kept safe and employees only see the forms you want them to see.
Each form can have its own security permissions, letting you control who can view, edit or approve forms. Information, once collected, is protected by Cezanne HR's advanced security too.
Help employees help themselves
Personalised Form Hub
Digitising all your forms with Cezanne HR will be popular with employees too. They'll benefit from their own form hub where they can find the forms relevant to them or check on the approval status of forms they've already submitted.
Since the system automatically keeps a full history of every form, including approvals, everything is kept transparent.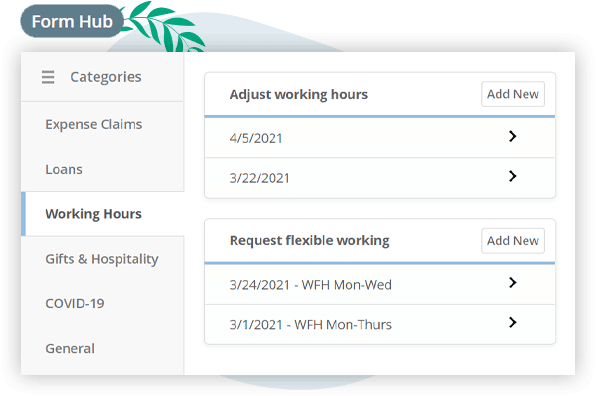 Information at your fingertips
Easy reporting
With form builder, it's not just your forms and associated approvals that are easier to manage.
You can use the data you gather to inform a host of important HR decisions, like whether exit interviews are flagging up key issues that should be addressed or to see how many employees have submitted requests to sell holidays or change their working hours so you can gauge resource allocation needs.
Which forms do HR teams use the most?
Every business is a little different, but here are ten of the most popular forms our customers have created recently.
Exit interviews

Want to uncover why employees leave? An exit interview form lets you collect employee feedback and find ideas on how you can improve your retention strategy.

Corporate hospitality and gift approval

Forms are also perfect if you need employees to declare – or managers to pre-approve – gifts and corporate hospitality. It ensures information is transparent and easy to report on.

Probation ending

A form for the end of a probation period ensures line managers can easily confirm the position of the new joiner or outline any additional steps, whether that's allocating further training or extending the probation period.

Expense claims

Simple expense claims can also be streamlined using forms. They'll ensure you collect all the right information – including supporting documents.

Travel season ticket loan application

With email, it's too easy for travel loan requests to get lost or overlooked. By creating a form in the system, that risk goes away.

Flexible working request

It's a legal requirement for employers to consider flexible working requests. An online form can make the process much easier to manage.

Employee referral

Existing employees can be a great source of new hires. You can simplify your employee referral programme with a form employees can use to recommend candidates for open roles.

Employee suggestions

Want to boost employee engagement? Set up a feedback form for your employees to use. That way you can be sure great suggestions don't get overlooked or lost in emails.

Work from home risk assessment

Need your employees to self-assess the risk of working from home? A form will help ensure the right information is collected and sent to the relevant people internally.

Buy/sell holiday request

Have a scheme for buying and selling holiday in your company? A form makes processing these requests easier, faster and fairer.
Let's transform HR together
Cezanne HR is trusted by thousands of HR professionals to help them better manage, support, engage and connect their people. Get in touch today to learn more.